Simple to manage, EASY to use and posible to control admin in the right position. It's a time to change your rent business from manual to computerize.
Who Can Use It ?
This item is the right choice if you have rooms, villas, guest houses or apartments that you want to rent it anytime as you want. You can control all of your properties quickly and simple enough in minutes.
The Features
All of this features will help you very much :
Full Custom Privilege
Each of page in this item are controlled by privilege number and only can be accessed by admin who have the same number privilege.
House Management
You can control all the houses that you have.
Room Management
You can control all the rooms that you have.
Privilege Group Management
With this concept of privilege, you can determine name of group privilege by yourself.
Admin Management
You can modification privilege and house privilege of each admin
Set Custom Price at Certain Date (Optional)
This feature will unlock ability to set price or disabled each room in certain date. Easy to use and useful if you already have planning for the next month or even year.
Book Management
You can book room, guest house, villa and even add additional cost, give a discount and create payment. Payment support for cash and credit card.
Download bill invoice in pdf.
Customer Management
Save your customer data. Can be use for next transaction.
Expense Cost Management
Very helpful to report your cashflow periodically.
Reports
Payment Report, Transaction Report, Cashflow Report and Room Report.
Demo System
Super Admin
Username: superadmin
Password: superadmin123
Operator Admin
Username: operatoradmin
Password: operatoradmin123
Finance Admin
Username: financeadmin
Password: financeadmin123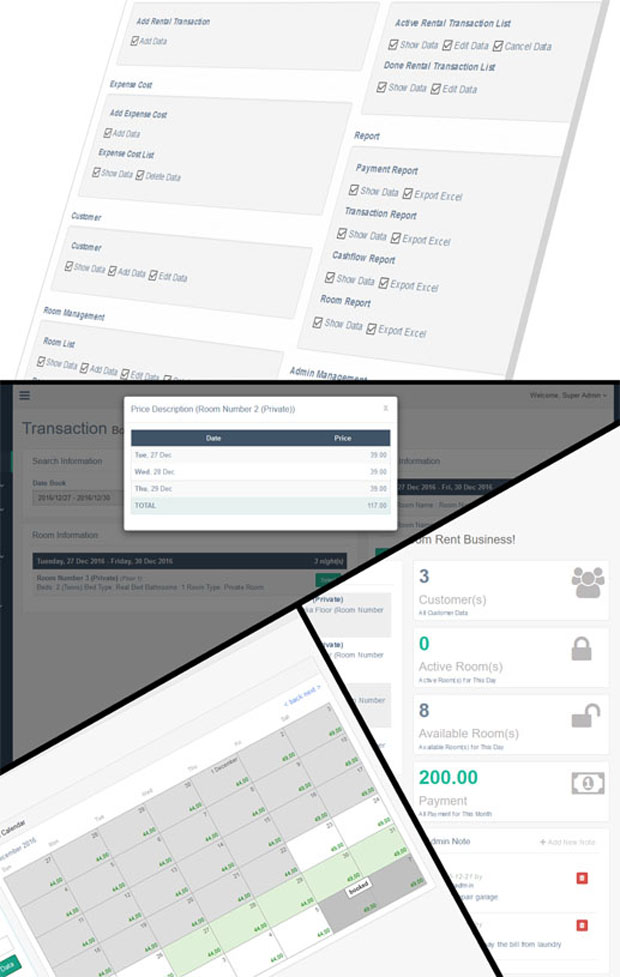 Reviews

Change Log
Version 1.1 | Jan 13, 2017

[Updated]: Bill invoice pdf;
[Updated]: Can upload image for every house to use in invoice;
[Updated]: Add email and ID Type for customer;
[Fixed]: Fix small bug;

Version 1.0 | Dec 20, 2016

[Release]: Initial release;

Special Thanks
Plugin and Code
Bootstrap
jQuery
Toastr
Bootstrap DateRangePicker
jQuery Select2
NProgress
Moment Js
How to build a simple calendar with JavaScript
Free Template Web
Download Room Rent Management
Script Review
Room Rent Management is a PHP Script developed by otakita. This premium script falls under php-scripts/miscellaneous category. It has been used in more than 21 projects. This php script is available for $28. It has been rated Excellent by more than 21 users.